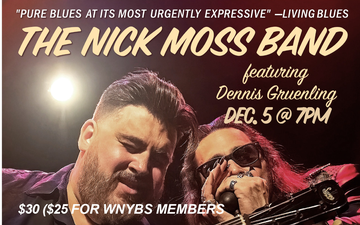 The Nick Moss Band featuring Dennis Gruenling
The Nick Moss Band featuring Dennis Gruenling Live at Fanatics Pub
Tue, Dec 5, 2023 7:00 PM (EST)
Fanatics Pub Lima, NY, Lima, New York
This event ended Tue, Dec 05, 2023
{{calendarLabel}}
{{calDate.dayOfMonth}}
Sold Out
Ended
{{calDate.available}}
{{ directions }}
Fanatics Pub Lima, NY
7281 W Main Street
Lima, New York 14485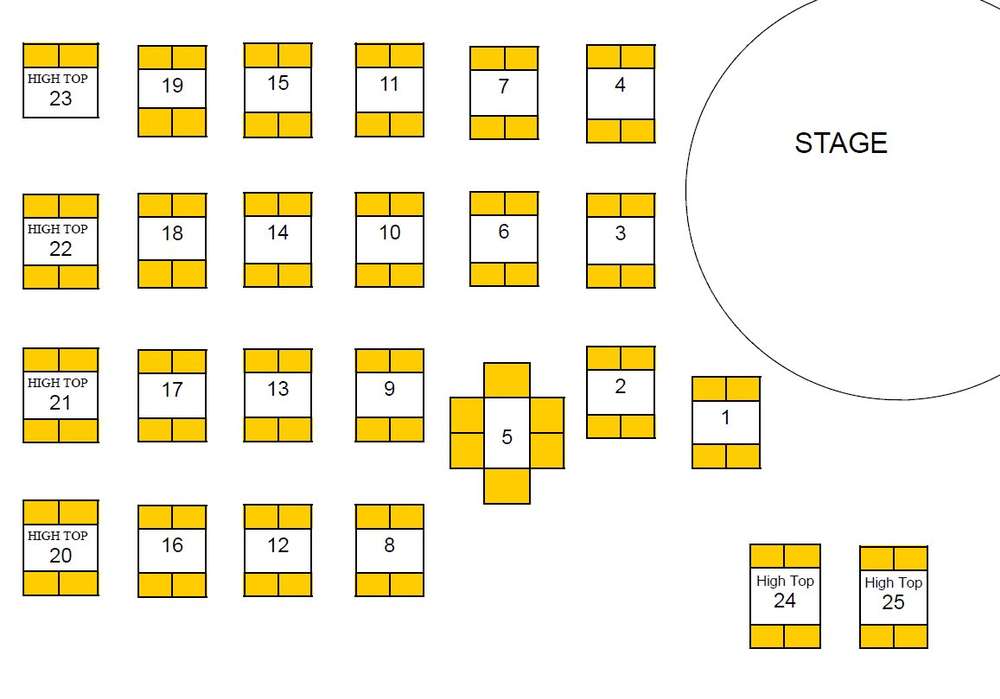 The Nick Moss Band featuring Dennis Gruenling
Get Your Back Into It!
Bio written by Marc Lipkin
"An incendiary brew...fiery fretwork and wailing harmonica...soulful, playful and exuberant." –Living Blues

"Superb...Nick Moss is one of the best existing purveyors of Chicago blues. Dennis Gruenling wails expertly on harp." –Blues Music Magazine
"Foot-stomping, classic Chicago blues with clever lyrics and great harp. You won't
be disappointed." –Blues & Rhythm (UK)
Since first forming The Nick Moss Band Featuring Dennis Gruenling in 2016, master blues guitarist Nick Moss and world class harmonica virtuoso Dennis Gruenling have become torchbearers for traditional electric blues. But rather than repeating what's come before, the band's high-energy take on old school Chicago, Texas and West Coast sounds is completely their own. With their new Alligator Records album (their third for the label), Get Your Back Into It!, Chicago native Moss and New Jersey native Gruenling—together with Rodrigo Mantovani on bass, Taylor Streiff on keyboards and Pierce Downer on drums—deliver a deeply rooted, timeless blue collar blues album.

AllMusic says the band, winners of the 2020 Blues Music Award for Blues Band Of The Year, "makes the case for the vitality of old-fashioned Chicago electric blues in the 21st century." They are among the world's very best old school blues ensembles, with each musician expertly playing off the others. "We are a rare breed as far as how authentic we like to keep the music," says Moss. The guitarist proudly represents the city of Chicago as one of the few bluesmen working today to have learned his craft firsthand, directly from many of the genre's original creators.

Get Your Back Into It! was produced by Moss and Mantovani and contains fourteen original songs: twelve by Moss and two by Gruenling. Guests include saxophonist "Sax" Gordon Beadle and, on Out Of The Woods, organist "Brother" John Kattke. The album is inspired by the electrifying blues sounds of 1940s through 1960s, and is performed with taste, restraint, sly humor and pure joy. The stylistically distinct songs—including three wild instrumentals that simply dare you to stay seated—are all connected by Moss' and Gruenling's shared musical vision. "We like to push ourselves out of our comfort zone," Moss says of the songs and performances on the new album, "and I feel like we accomplished that."

From the life lessons espoused in The Bait In The Snare, Losing Ground and Choose Wisely to the hard blues of Aurelie and Living In Heartache to the lighthearted ode to the band's Brazilian bass player, It Shocks Me Out, Moss makes clear, in addition to his unparalleled guitar work and soulful singing voice, he is also an award-winning songwriter with the rare Willie Dixon-like ability to write and sing the blues' honest truth.

Authenticity has never been a problem for Moss, who first made a name for himself playing bass for bluesman Jimmy "Fast Fingers" Dawkins. Dawkins encouraged Nick to unleash his fire and passion. From there, Moss was chosen by Willie "Big Eyes" Smith to join his Legendary Blues Band, but Smith insisted Moss switch to guitar. Blues icon Jimmy Rogers (whose best known songs included Walking By Myself and Ludella) hired Moss as his touring guitarist, mentoring him on the blues lifestyle along the way. Today, Moss' blistering fretwork, impassioned, soul-charged vocals and memorable original songs place him in a league of his own.

Growing up in Chicago and standing tall at 6'2", the teenage Moss dreamed of playing both music and sports. His mother was a huge blues fan, even taking a young Nick to see Muddy Waters live in concert. At 18, sudden emergency kidney surgery sidelined his athletic hopes and left the youngster feeling blue. To lift his spirits, Nick's brother snuck him out of the hospital to see Alligator artists Little Charlie & The Nightcats perform. Nick was blown away by the show and by meeting the band, and it was then and there that he decided on a career as a bluesman. After his years working with and learning from true blues royalty, Nick formed his first band in 1997 and released his debut album a year later on his own independent Blue Bella label. Since then, he's earned legions of fans, playing over 100 shows a year. Moss has shared stages with Buddy Guy, Kenny Wayne Shepherd, Gary Clark, Jr., David Hidalgo and many others, and is an in-demand guest, always welcome to sit in with his musician friends around the world. He and the band have crisscrossed the United States and Canada multiple times, and have performed in the UK, Norway, Belgium, France, Spain, Latvia, Poland and other European countries.

Dennis Gruenling, Moss' friend of over 20 years, is considered among today's most innovative and creative blues harmonica players. His high-energy, full-throttle reed work has earned him comparisons to many of the greats, including the late James Cotton. As a teen, he heard the Alligator recording Harp Attack! (a summit meeting of Cotton, Junior Wells, Carey Bell and Billy Branch) and decided that blues harmonica was his life's calling. In addition to Cotton, Gruenling was inspired by blues harp masters Little Walter and George "Harmonica" Smith as well as by saxophonists, including Lester Young and Red Prysock. A self-taught player and a natural entertainer with seven solo albums and numerous guest appearances to his credit, Gruenling's giant, fat-toned harp work, raw-boned singing and untamed energy are a perfect foil for Moss' inspired guitar playing and straight-from-the-shoulder blues vocals. Vintage Guitar says, "Gruenling's harp, along with the Midwestern intensity of Moss' blues guitar, is pure ecstasy."

With the release of their Alligator Records debut, The High Cost Of Low Living, in 2018, The Nick Moss Band Featuring Dennis Gruenling announced their arrival, as fans and critics were amazed by the band's dynamic sound. 2019's Lucky Guy! took them even higher, as the album hit blues radio by storm, finishing Top 10 on the Living Blues Radio Chart's Top 50 Albums of 2019. Internationally, the album peaked on blues charts at #1 in Australia, #3 in France and #7 in the UK. Songs from Lucky Guy! were also prominently featured on BBC2 in Britain and CBC in Canada. The title track became one of the most played songs on SiriusXM's Bluesville. Additionally, Woodsongs Old-Time Radio Hour invited the band to perform live on its nationally syndicated public radio broadcast.

Moss, Gruenling and the band have received a total of five Blues Music Awards, with wins in 2020 for Band Of The Year, Song Of The Year (Lucky Guy) and Traditional Blues Album Of The Year (Lucky Guy!), and in 2019 for Traditional Blues Male Artist (Moss) and Instrumentalist—Harmonica (Gruenling). Blues Music Magazine says, "Nick Moss is a major force in contemporary blues. Dennis Gruenling plays soaring harp...infectious and finger-snappin'."

Now, with Get Your Back Into It! and upcoming North American and European tours in the works, The Nick Moss Band Featuring Dennis Gruenling will bring their brash and exciting blues to old fans and new. Performing at clubs, concert halls and on festival stages across the country and around the world, the band ignites an irresistible musical firestorm onstage. "When we get together, the music takes over," says Moss. "We can't hold back, and the energy just comes pouring out. We get carried away and the audience gets carried away with us."

All sales are final
Seating subject to change
Cart is empty
after
you have entered all required information.
If your order qualifies for a discount, it will be applied during checkout
Location
{{ directions }}
Fanatics Pub Lima, NY
7281 W Main Street
Lima, New York 14485