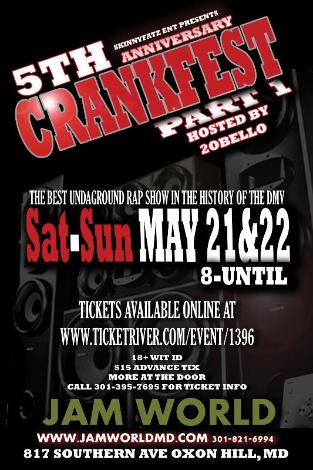 5th Anniversary Crankfest Part 1
The biggest Undaground Hip-hop event in the DMV!!
Sat, May 21, 2011 8:00 PM (EDT)
Jamworld Lounge, Oxon Hill, Maryland
This event ended Mon, May 23, 2011
Jamworld Lounge
817 Southern Ave
Oxon Hill, Maryland 20745
Join us for a very special celebration of DMV music as we get ready to party at Crankfest. We support local artist and believe in providing a grand stage and opportunites for artist to be heard. Be supportive and join us.
Location
Jamworld Lounge
817 Southern Ave
Oxon Hill, Maryland 20745