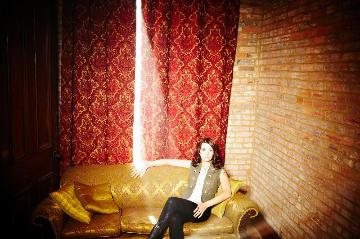 BRANDI CARLILE
BRANDI CARLILE AT BOZEMAN'S EMERSON CENTER- AUG 9
Tue, Aug 9, 2011 8:00 PM (MDT)
Emerson Center, Bozeman, Montana
This event ended Tue, Aug 09, 2011
{{calendarLabel}}
{{calDate.dayOfMonth}}
Sold Out
Ended
{{calDate.available}}
Emerson Center
111 South Grand Avenue
Bozeman, Montana 59715
Around the time she began getting serious about making music, Brandi Carlile would travel to Seattle's Benaroya Hall for concerts, including solo performances by Dave Matthews and Pearl Jam's Eddie Vedder. "I watched them," she recalls, "and I wondered what it would be like to stand on that beautiful stage." Now she knows. The release of Live at Benaroya Hall with the Seattle Symphony marks the realization of two dreams for the acclaimed singer/songwriter: "We got to work with a world class symphony and record in this legendary venue in our hometown. The hall has such great acoustics, you can hear someone zip up their coat." The stunning set features Carlile and her band running through a beautifully vibrant collection of her best-loved originals, including "Dreams" and "The Story," as well as a number of cover songs she has come to make her own.
In addition to a 30-piece orchestra, she's joined by her stellar, longtime band featuring guitarist Tim Hanseroth and bassist Phil Hanseroth (collectively known as "The Twins"), cellist Josh Neumann and drummer Allison Miller. "A live album is something we always wanted to do," says Carlile, winner of Seattle's City of Music Breakthrough Award in 2010. "We wanted three studio albums and then a live record since we, above all things, consider ourselves a live act. Performing is the cornerstone of our career." As Carlile's fans well know, her concerts are near legendary in their perfect communion between performer and audience. Whether she is rocking out with her full band or standing quietly, tantalizingly close to the edge of the stage singing a capella, Carlile brings a riveting intensity to her shows. "The Symphony is here and they add so much to it," she says of Live at Benaroya Hall with the Seattle Symphony, "but as far as the emotion, it's the same as any other show."
The thirteen selections (including a secret hidden track) for Live at Benaroya Hall with the Seattle Symphony come from Carlile's two sold-out November 2010 performances at the prestigious venue. "Almost the whole recording is the first night," she confesses. "We played a rock club in between the two shows and with all the Ramones covers we blew out our voices. The second night was fine, but the first night shined with precision."
The album opens with a cover of Elton John's "Sixty Years On" from his 1970 self-titled album. The song serves as an homage to one of Carlile's musical heroes (much to her delight, John appeared with Carlile on "Caroline" on her 2009 Rick Rubin-produced album, Give Up The Ghost). "I loved Elton John, Madman Across the Water and Tumbleweed Connection. They were such collaborative efforts. The song is a nod to what first inspired me to start playing with symphonies and being able to conceptualize orchestrated music," Carlile says.
To bring it full circle, Live at Benaroya Hall with the Seattle Symphony features arrangements from John's legendary arranger Paul Buckmaster, including his original arrangement for "Sixty Years On." Sean O'Loughlin, renowned for his work with Chris Isaak and Belle & Sebastian, contributed arrangements as well.
After her first orchestra performance in 2008 (at Benaroya Hall, coincidentally), Carlile, who was named one of Rolling Stone's "10 Artists to Watch in 2005," knew a live album with a full orchestra was a foregone conclusion. "Before we started working with the symphonies, we'd thought about all different kinds of live albums like [Sarah McLachlan's] Mirrorball, where we'd record the whole tour and take our favorite songs, or a live album that we'd record at a famous venue like Massey Hall. There has to be some kind of cohesiveness. But after our very first symphony experience there was no discussion."
Carlile's memories of the Benaroya shows are as crystalline as her radiant voice. "On 'Dreams,' the crowd was so raucous, there were a few seconds I couldn't even hear our band over the symphony. A bunch of them were standing up and clapping. Everyone in the room just had a good time."
The record includes Leonard Cohen's "Hallelujah," a song that remains as sacred and transformative to Carlile today as it did when she first heard Jeff Buckley's version years ago. With the muted strings, Carlile's cover is breathtakingly transcendent. "Usually when I'm performing, I'm interacting with the band and interacting with the audience," she says, "but for some reason, when I sing 'Hallelujah,' I'm kind of witnessing it from another place when it's happening. I can hear what's going down. The strings on this version are transporting."
While it seems incredible, Carlile was so in the moment, she didn't remember she was being recorded. "When you're standing in front of 3,000 people, you'd be amazed what you forget," she laughs. "Before the show we were asked to adjust the lighting for a few songs to allow for photos for the album packaging and we said, 'No,no,no. The show is all that matters.' The ironic thing is if you believe nothing matters more than the show, that will translate in an unspeakable way on the recording."
Indeed, anyone who's ever attended one of Carlile's shows will recognize the magic captured within. Unlike many albums that claim to be "live" but are full of studio fixes, "Live at Benaroya Hall" is pure, unadulterated Brandi. "We did some really, really minor things in post-production, mostly volume stuff like we'd decide the symphony needs to be louder or we wanted to turn up the violas," Carlile says. "But anyone who was there would tell you this is exactly how it sounded."
Cart is empty
after
you have entered all required information.
If your order qualifies for a discount, it will be applied during checkout
Location
Emerson Center
111 South Grand Avenue
Bozeman, Montana 59715