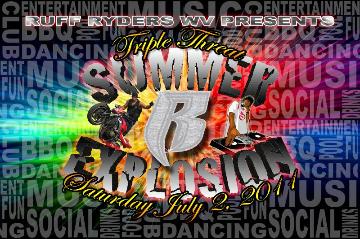 Ruff Ryders Present: Triple Threat
Community event benefiting a good cause.
Sat, Jul 2, 2011 3:00 PM (EDT)
Wave Tek Pool, Fairmont, West Virginia
This event ended Sat, Jul 02, 2011
Wave Tek Pool
35 City View Ter
Fairmont, West Virginia 26554
Ruff Ryders we back you know the streets don't know how to act!!!Are you ready for hottest event this summer? Come party with the Ruff Ryders what else do you have to do?Ruff Ryders Greet and Eat BBQ 3PM TIL 6PM @ Wave Tek Pavillion 4 & 5$5 a plate and 5% of the proceeds will be given to support 612 Mac ,612 Mac is a community center that provides after school programs and various activities for children in the area. Other activities include Flag Foot Ball, Basket Ball, Horse Shoes, Tug "O" War, and Dancing "YOU BETTER KNOW HOW TO WOBBLE"The Cool Down 6:30PM til 8:30PM @ Wave Tek PoolCome chill pool side with the Ruff Ryders at the Wave Tek Pool. Fun in the sun for everyone. Activities include a performance by special music guest V DOT from AlldisyenRecords out of the Columbus, Ohio Chapter. Come witness the hottest act in town!!! De Lazy Lizard Take Ova 9PM TIL @ De Lazy LizardParty til you break something!!! Ruff Ryders taking the club over Come witness the hottest performance in town! V Dot (AlldisyenRecords) will be performing and you don't want to miss it...
Location
Wave Tek Pool
35 City View Ter
Fairmont, West Virginia 26554