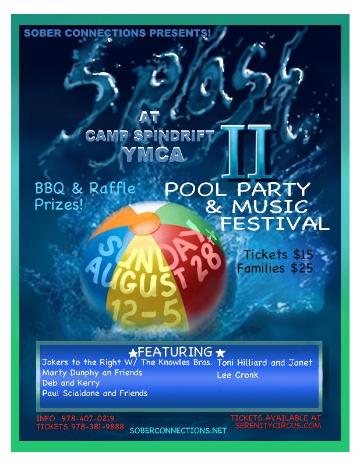 Sober Connections/Camp Spindrift's Summer Splash 2
Sober Connections & Cape Ann YMCA Camp Spindrift's Summer Splash II!
Sun, Aug 28, 2011 11:00 AM (EDT)
Camp Spindrift, Gloucester, Massachusetts
This event ended Sun, Aug 28, 2011
Camp Spindrift
13 Atlantic Avenue
Gloucester, Massachusetts 01930
*** ATTENTION!!***
DUE TO HURRICANE IRENE, WE HAVE RESCHEDULED THIS EVENT TO SEPT 10th!
It's Official!!! You Asked For It, and we have Confirmed it!!
Sober Connections & Cape Ann YMCA Camp Spindrift's Summer Splash II!
Come Join us for an End of Summer Live Music and Barbeque at Camp Spindrift in Gloucester MA.
This is an Alcohol Free Event!
This Event will feature live local bands, a barbeque (which is included in the ticket price), Full use of the campground facilities, use of the Camp Pool with Lifeguards, Activities for the Kids, as well as some vendors coming to show some of thier wares.
Some of our loyal Sponsors have donated Goods and Services for our FREE Door Giveaways, and Raffles! Save your entrance ticket stubs (or web ticket!)
We have two admission prices to help cover the costs and to support Camp Spindrift.
Single Admission is $15.00 and a Family Admission is $25.00 The Family admission is for two adults and children under 14 that can fit into a car (bring em all! But be Safe!)
We are also asking for you to consider our Sponsor a Ticket Program to help cover the cost of a ticket for those new in Recovery looking to come but just cannot cover the costs. We all remember the struggles of the first years of sobriety so please consider helping us with this. We have created a Ticket especially for this Program that we can print out and leave at the gate for those we expect to come.
Thank you!
Tickets are onsale online as well as at the door!
Feel free to contact Dan Driscoll at 978-381-9888 or call Rick at Camp Spindrift for more information!
Location
Camp Spindrift
13 Atlantic Avenue
Gloucester, Massachusetts 01930