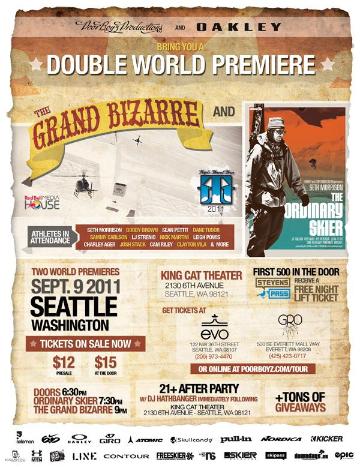 Triple Threat Tour Seattle, WA WORLD PREMIERE
Buy your tickets now for the 2011 Seattle, WA World Premiere.
Fri, Sep 9, 2011 6:45 PM (PDT)
The King Cat Theater, Seattle, Washington
This event ended Fri, Sep 09, 2011
The King Cat Theater
2130 6th Avenue
Seattle, Washington 98121
World Premiere Tickets to the 2011 Triple Threat Tour!
SEATTLE, WASHINGTON SEPTEMBER 9TH 2011
Buy Early And Save! Tickets are going fast, this show will sell out! Arrive early to claim the best seats and get stoked on not one but two massive world premieres!
IMPORTANT INFO: HOW THE ONLINE WILL-CALL TICKETS WORK: You will NOT be shipped a paper ticket. All online ticket purchases will be added to the Will Call list, and tickets can be picked up at the King Cat Theater box office before the show. Just bring an ID that matches the name you use to purchase the ticket(s) and you're good to go!
We Will open the box office at 6:15 PM On Saturday September 9th.
DOORS: 6:30 PM
THE ORDINARY SKIER 7:30 PM
THE GRAND BIZARRE 10:00 Pm
DJ HATHBANGER 11:00 PM
Hotels Avaiable from The Holiday Inn Seattle Center Here at a special discounted rate:
http://www.ichotelsgroup.com/redirect?path=rates&checkInDate=09&checkInMonthYear=082011&checkOutDate=11&checkOutMonthYear=082011&brandCode=hi&hotelCode=seasc&GPC=PBG&_IATAno=99801505
Athlete appearences from: Seth Morrison, Bobby Brown, Dane Tudor, Sammy Carlson, Sean Petitt, Nick Martini, LJ Strenio, JP Auclair, Cam Riley, Clayton Vila, MIke Henitiuk, Josh Stack, Charley Ager, Liegh Powis & More!
Location
The King Cat Theater
2130 6th Avenue
Seattle, Washington 98121