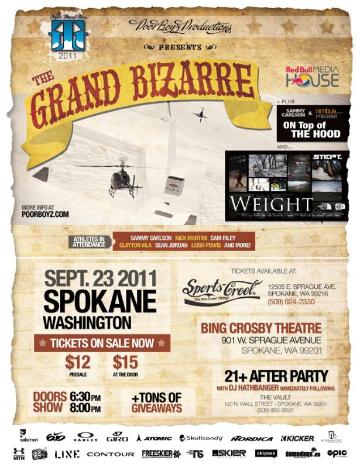 Triple Threat Tour Spokane, WA The Grand Bizarre
Buy your tickets online now for the PBP Triple Threat Tour 2011 Spokane, WA 9/23/11
Fri, Sep 23, 2011 6:30 PM (PDT)
The Met Theater, Spokane, Washington
This event ended Fri, Sep 23, 2011
The Met Theater
901 West Sprague Avenue
Spokane, Washington 99201
ONLINE TICKETS CLOSED! PLEASE PURCHASE AT THEATHER BOX OFFICE!
Three-movies, one night! A Ton of pro athletes, more raffle than any other event of the season and one crazy after-party!
Come See three pf this years biggest and best movies with a Special screening of Stept Productions "WEIGHT" and Sammy Carlson's "On Top Of Da Hood" on the big Screen at the Met Theater. along side with Poor Boyz Productions, "The Grand Bizarre"
Guest Athletes may be:
Nick Martini, Clayton Vila, Cam Riley, Leigh Powis, Sammy Carlson, LJ Sternio and much much more!
Tickets Available in person at
The Sports Creel
12505 East Sprague Avenue Spokane, WA
99216
(509) 924-2330
DOORS 7:00 PM SHOW STARTS @ 8:00 PM ADULT BEVERAGES AVAILABLE FOR 21+ AT THE SHOW! HUGE RAFFLE! Skis, ikicks, skull candy & a more!21+ After party to follow with DJ Hathbanger Spinning All-Night
Location
The Met Theater
901 West Sprague Avenue
Spokane, Washington 99201