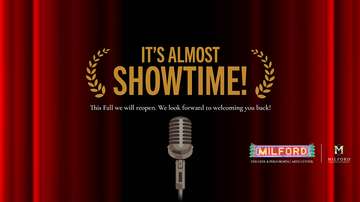 2021 Black Bear Film Festival
2021 Black Bear Film Festival
Fri, Oct 15, 2021 4:00 PM (EDT)
The Milford Theater, Milford, Pennsylvania
This event ended Sun, Oct 17, 2021
{{calendarLabel}}
{{calDate.dayOfMonth}}
Sold Out
Ended
{{calDate.available}}
{{ directions }}
The Milford Theater
114 East Catharine Street
Milford, Pennsylvania 18337
2021 Black Bear Film Festival
Celebrating 22 years!
October 15th - 17th, 2021

Mainstage : Milford Theater 114 E. Catharine St. Milford, PA 18337


ALL ATTENDEES are required to show proof of vaccination or a negative PCR test within 72 hours of show and facemasks are required, except when eating or drinking.




GALA PASS Friday only $90
Opening Night at the Black Bear Film Festival, October 15, 2021 at 4:00pm
Join us for the Opening Night Gala at the newly renovated Milford Theater.
Please note that in order to keep our guests safe we are requiring proof of vaccination or Negative PCR test results within 72hours and wearing of masks, when not eating or drinking, for opening night. Please have a picture of your vaccination or negative rapid test at check in.
Check in will begin at 4:00pm in the tent outside the Milford Theater.
Guests will be treated to popcorn and soft drinks for the film.
Cocktails and wine will be available for purchase at the bar.
Our feature film, Port Authority, will begin at 5:00pm.
Immediately following the film, guests will enjoy a
lavish cocktail hour catered by The Tom Quick Inn, with signature cocktails and wine selections in the tent.
Live music by Joe Ferry and The Big Ska Band.
5:00 PM - Port Authority - 2019 - 1:45:00 - Drama - Executive produced by Martin Scorsese - Directed by Danielle Lessovitz – Starring Fionn Whitehead (Dunkirk), Leyna Bloom
Virtual Q&A after the film with director Danielle Lessovitz.
After getting kicked out of his home in central Pennsylvania, Paul arrives at NYC's dizzying central station with nowhere to go. A momentary encounter with Wye, a trans woman of color, leads him to seek her out. Transfixed by her beauty and confidence, a love soon blossoms. But as the two learn more about each other, Paul's false narratives begin to surface and the double life he lives must be reconciled.
GOLD PASS - $160.00
OPENING NIGHT FILM AND COCKTAIL PARTY FRIDAY, OCT. 15 DOORS OPEN 4PM
INCLUDES FULL Weekend MAINSTAGE Films

WEEKEND PASS- $75.00 Saturday and Sunday Only

Individual Film Tickets - See Schedule on Event Description - $12


Saturday Features: 10/16
11:00AM - Life With Layla - 2021 - 1:08:24 - Documentary - Directed by Ken Spooner and Mike Mee
Q&A after the film with Ken Spooner.
Seven-year-old Layla is well aware of her family's history of addiction. After losing her aunt to a fatal overdose, Layla's family struggles to cope with their loss. With her Uncle Greg's heroin addiction escalating, Layla and her Mom attempt to bring him home safely to keep their family from losing another loved one.
1:30 PM - Not Going Quietly - 2021 - 1:37:00 - Documentary - Directed by Nicholas Bruckman
In the summer of 2016, Ady Barkan's career as a public interest lawyer was thriving, and his wife Rachael had just given birth to their beautiful baby boy. Then, like lightning out of a blue sky, Ady is diagnosed with ALS, a deadly disease that will soon paralyze his entire body. During a chance encounter on an airplane, Ady runs into Arizona Senator Jeff Flake, the deciding vote on Trump's Tax Bill which threatens to gut Medicare and Medicaid. Ady pleads with the Senator to "be a hero" and vote no on the bill. This conversation, captured on video, goes viral before the plane lands. Capitalizing on the momentum of his new public platform, Ady launches the "Be a Hero" campaign to replace the politicians who voted to take away his health care. Through the journey we get a behind-the-scenes look into what it takes to build a movement and the power of personal storytelling as a tool for change. Ady's story urges us to ask ourselves what kind of mark we want to make on our society, and what we are willing to give to achieve it.
4:00 PM Short Film Special Screening
Exceptional work in the art of the short film. Followed by Q&As with some of the filmmakers and actors.
BOJ The Movie - 2021 - 50:00 - Comedy - Written and performed by Job Ethan Christenson - Directed by Isaac Bush
The journey of a man named after the prominent biblical figure and the parallels he discovered through surviving a stroke. What originated as a one-man play meant to premiere last summer (2020) in the NY Theatre Festival evolved into this short film due to the pandemic and theatre closing down the world.
Lady Hunters - 2018 - 15:33 - Comedy Thriller - Written and Directed by Angela Atwood - Starring Angela Atwood, Lara Buck, Marianne Hardart
Three best friends, on a weekend retreat to the Adirondacks, learn a heinous gang rapist has been released from prison nearby. Incensed by the atrocious nature of the crime against a teenage girl, and incarceration of only one of the perpetrators, the three suburban moms find themselves novice killers and arbiters of justice.
No Longer Suitable For Use - 2021 - 21:00 - Drama - Executive Produced by Sam Rockwell - Written and Directed by Julian Joslin - Starring Laith Nakli (Ramy), Craig muMs Grant (OZ, Bamboozled), Waleed Zuaiter, Ivan Martin, Michael Godere, Samir Zaim-Sassi
Samir, a Syrian FBI informant and single father, faces an impossible choice when he gets one final chance to avoid deportation by setting up a target in a terrorism sting.


7:00 PM - My Brother, My Hero Forever - 2021 - 30:00 - Documentary - Executive Produced by Bill Rosado - Written and Directed by Ken Vose - Q&A will follow.
This is the story of a powerful bond between two brothers who couldn't be more different.

8:45 PM - Superior - 2021 - 1:39:00 - Drama - Directed by Erin Vassilopoulos - Starring Alessandra Mesa, Ani Mesa, Pico Alexander (Home Again, Dickinson), Jake Hoffman (The Irishman)
On the run, Marian returns to her hometown to hide out with her estranged identical twin sister, Vivian, but haunted by her past, their worlds begin to dangerously collide.
Sunday Features: 10/17
10:30 AM - The Tuneful Trolley - 2021 -1:26:35 - Documentary - Directed by Joe Nolan
1960's boy-band 'The Tuneful Trolley' reunited for the first time fifty years after their Capitol Records album 'Island in the Sky' hit the store shelves in 1968. This documentary is about a band that almost made it, but it is also "about that time in life when just having a dream is reason enough to believe in it."
12:45 PM - Jack And The Treehouse - 2021 - 1:17:00 - Drama - Written and Directed by Jim Schneider Starring Cotter Smith, Eamonn McElfresh, Dave Mansueto
Jack is still reeling from the death of his grandfather when his father decides to sell the family's woods. Unwilling to give up the place that meant so much to his grandfather, Jack holes up in a treehouse and refuses to come down.
3:00 PM - Ronnie's - 2020 - 1:46:00 - Documentary - Directed by Oliver Murray
A chronicle of the life of saxophonist Ronnie Scott, from poor, Jewish kid growing up in 1940s East End, London, to the owner of the legendary night club, Ronnie's, one of the most famous jazz clubs in the world. Glorious clips from performances by jazz greats spanning decades — Dizzy Gillespie, Sarah Vaughn, Ella Fitzgerald, Oscar Peterson, Jimi Hendrix, Nina Simone, Miles Davis, Van Morrison, Chet Baker, Sonny Rollins and many more jazz icons — bring to life this story of a charming, incredibly talented man who secretly wrestled with his own inner demons. Ronnie's is a joyous, visually stunning film that seeps through your pores, melts into your bloodstream, and will propel you back to a bygone era that is nothing short of an exhilarating and nostalgic ride.
5:30 PM - Everything In The End - 2021 - 1:14:10 - Drama - Directed by Mylissa Fitzsimmons - Starring Hugo de Sousa, Bergdis Julia Johannsdottir, Lilja Þórisdóttir, Joi Johannsson
With her first feature film, Mylissa Fitzsimmons, recently nominated for the Lynn Shelton "Of a Certain Age" grant, presents Everything in the End. A story of a lonely traveler who finds human connections during the final days of Earth's existence.
7:30 PM - Malaisia - 2019 - 2:06:00 - Comedy - Directed by Mac Cappuccino - Starring Josh Nuncio, Sarah Baskin, Leo Santaiti
Three "artsy" thirty nothings-Art, Gwen and Lance- spend too much time at Art's bar. Gwen is Art's girlfriend, Lance is his best friend but Lance loves Gwen. Heard this one before?
FOLLOW US ON FACEBOOK AND INSTAGRAM FOR UPDATES
SUBSCRIBE TO OUR EMAIL LIST @ blackbearff@gmail.com
Visit us @ www.blackbearfilm.com
Cart is empty
after
you have entered all required information.
If your order qualifies for a discount, it will be applied during checkout
Location
{{ directions }}
The Milford Theater
114 East Catharine Street
Milford, Pennsylvania 18337