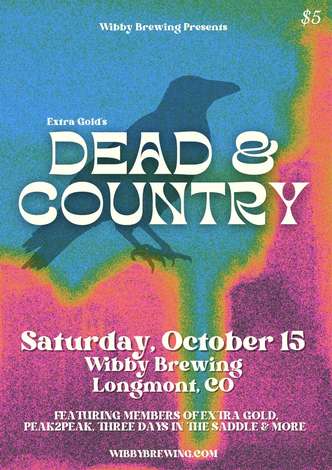 Extra Gold's Dead & Country Supergroup
Honky Tonk, Country, & Good ol' Grateful Dead
Sat, Oct 15, 2022 4:00 PM (MDT)
Wibby Brewing Lounge, Longmont, Colorado
This event ended Sat, Oct 15, 2022
{{ directions }}
Wibby Brewing Lounge
Wibby Brewing
Longmont, Colorado 80501
Evan Holm - Guitar / Vocals
Alyssa Medina - Vocals
Paul Copoulos - Hammond Organ / Keys
Cooper Dickerson - Pedal Steel
Max Mackey - Guitar / Vocals
Gary Howard - Drums
Andrew Porter - Bass

Since forming in 2017, Extra Gold has crafted a country music cocktail that is equal parts Golden-Era Country Revival, Folk, and Rock & Roll. With the addition of Hammond B3 organ, pedal steel and fiddle, the band plays every card. They waltz through tender three-part harmony ballads before inciting two-steppin', beer-slingin' dance parties that have placed them in venues with modern-day honky-tonk heroes like Whitey Morgan and Jesse Dayton, as well as soon-to-be household names like Paul Cauthen and Zephaniah Ohora.
"Extra Gold will take you on a trip through time to when Denver was just a small mining town. The group's old-timey sound just makes you want to get up and stomp your boots and spin your partner around and around on the dance floor. Hot off their debut EP, Extra Gold harkens back to Denver's roots to give listeners a wild west experience no matter where they might be when they hear this magnificently fun band." - 303 Magazine
Fronted by Kansas City native Evan Holm, Extra Gold released their acclaimed debut record "High & Lonesome" in 2018 and released the single "What It's Like" in 2020. They are back in the studio recording their much anticipated follow up LP to be released in late 2022 and are bound to take the festival circuit by storm.
"The band's first release, High & Lonesome, which dropped November 26, is an impressive debut. It's the rare case in which the band sounds as good on the recording as it does during live performances." - Westword Magazine
Location
{{ directions }}
Wibby Brewing Lounge
Wibby Brewing
Longmont, Colorado 80501