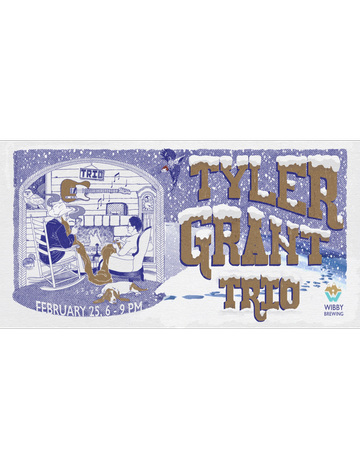 Tyler Grant Electric Trio
Tyler Grant & Friends
Fri, Mar 10, 2023 7:00 PM (MST)
Wibby Brewing Lager Lounge, Longmont, Colorado
This event ended Fri, Mar 10 - 10:00 PM
{{calendarLabel}}
{{calDate.dayOfMonth}}
Sold Out
Ended
{{calDate.available}}
{{ directions }}
Wibby Brewing Lager Lounge
209 Emery Street
Longmont, Colorado 80501
Wibby Brewing Presents:
TYLER GRANT TRIO
February 25, 2023 6-9pm
A Lager Lounge experience
Tyler Grant + Zach Jackson + Sean Macaulay
Limited Seating. General Admission. First come, first served.
*Advance ticketing includes your first beverage*
With his latest solo release, Tryin' To Have A Good Time, Tyler Grant takes the listener on a six-string joy ride through his musical history, tracing a family line to his late father, Michael Grant, who once told his son, "Tyler, no matter what the situation, the best thing you can do is try to have a good time."
"I had to think about that for a minute," admits Grant, "but it turned out to be one of the most valuable pieces of advice I received from my dad."
A National Flatpicking Champion and renowned guitarist, singer, songwriter, storyteller, producer and educator–Tyler Grant's adventurous career has spanned the better part of thirty years, and has taken him from sideman to bandleader; and young hotshot to mentor in the Bluegrass, Americana and Jam Band scenes. His sixth solo release, Tryin' To Have A Good Time, captures the image of a life-long wanderer staking out musical roots which extend to a canopy of song, inviting the listener into a home long sought after.
"A few weeks after losing my dad in July 2019, my Uncle Bob approached me with an idea, 'Tyler, what if you record an album of the songs that you & your dad played together and call it Guitars & Trains?' This was a fine idea, but those songs had already been done, so I decided to get to work writing an album of new songs with that subject in mind."
The lead off track, "Guitars & Trains", materialized right away, and several others followed. "Ease Your Mind" and "Joyful Song" relate directly to the quote which inspired the album title. "Golden Spike" tells the story of a man seeking riches and the promise of a better life out west in the guise of a train song which draws influence from another musical hero, Jerry Garcia. The themes of home, life lessons and family bonds are evident throughout the program.
"Not long after losing my dad, my cousin Dave died suddenly. He was more like an uncle-an important role model. Dave loved the classic truckin' songs, so I revisited a song that he and I had started together years before, which became "Stack Them Eights". Dave is the main character in the song, Jerry Mack. My great-uncle, Don, also makes an appearance in the CB narrative as Silver Fox, while the 'Wiggle Wagon' rolls West along 'The Dime' (I-10) to 'Shakey' (California). These songs were mostly written in Southern California at my old family home, so that location works its way into much of the material."
Tyler founded the Cosmic Americana band Grant Farm® in 2010. After five albums, a collaborative release with Fruition (the celebrated Meeting On The Mountain EP), eleven episodes of the Meeting On The Mountain LIVE Broadcast®, and hundreds of concerts and festival sets around the US, the band called an indefinite hiatus, seeking new directions during the "Great Pause" of 2020.
"When the shutdown began, I found myself in a place where I did not want to be a leader. I needed leadership after losing so many elder family members and the folding of the band. I needed someone or something to follow."
Here's where the story takes a turn. In the Spring of 2020, Scotty Stoughton, founder of WinterWonderGrass Festival, invited Grant to participate in an experiment in the Great Outdoors. Stoughton, co-owner of whitewater outfit Adrift Adventures Dinosaur, was fulfilling a vision of bringing musicians from his festivals on multi-day rafting trips to perform intimate concerts in the sublime canyons of Dinosaur National Monument on the Green and Yampa Rivers. In June, 2020, Tyler participated in the inaugural RiverWonderGrass expedition, along with musical pals Andy Hall, Daniel Rodriguez and Andy Thorn. This series would become the most life-changing and fulfilling page of this chapter.
"I was hooked on the experience from day one. I've always been an outdoor enthusiast, and this was a whole new adventure. Rafting down those pristine stretches of river, experiencing the thrill of the rapids, the majesty of the canyons, bonding with guests and crew over music and meals at the most remote, beautiful campsites, collaborating with some of my favorite musicians in a pure acoustic setting…I accepted invites to several more RiverWonderGrass expeditions that summer, and started hanging around the boathouse, learning the ways. Scotty, his business partner Javier, and the young guides at Adrift became my leaders and I became the student again. This was a silver lining of the Pandemic, and pushed me into outdoor leadership."
This experience inspired the wildlife conservation-themed "Henry Brown", "Moonlight Eyes" and "Wild Wolves Of The Highlands", and the semi-autobiographical, tongue-in-cheek, "Midlife Crisis".
After entertaining on five RWG expeditions in 2020, some informal guide training on an oar raft and standup paddle board, and purchasing his own raft to participate in private expeditions, Grant returned to Adrift in 2021 to complete formal guide training. That summer he entertained on five collaborative RiverWonderGrass expeditions and brought his guitar on all the non-musical trips that he guided on, culminating in a nineteen-day private trip in his boat, the Canyon Wren, down the Green and Colorado Rivers at the end of the commercial season. In the fall, he forced himself back to civilization with a scroll of new stories from a season of over 1,000 miles of rowing down the river.
When not on the road, the stage, the river, or filming instructional series at the studio of JamPlay.com, Grant spends most of his time in Colorado and California, searching for that perfect combination of song and story, and practicing the heck out of the guitar.
Cart is empty
after
you have entered all required information.
If your order qualifies for a discount, it will be applied during checkout
Location
{{ directions }}
Wibby Brewing Lager Lounge
209 Emery Street
Longmont, Colorado 80501