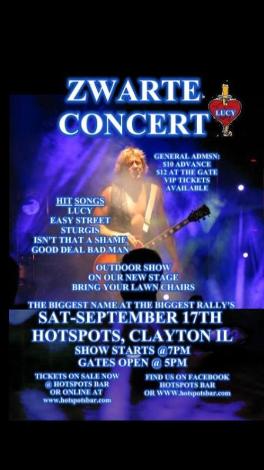 ZWARTE CONCERT
GATES OPEN AT 5PM CAMPING IS AVAILABLE @ CEDAR LAKES CAMP GROUND, 2000 N. 1850TH AV, CAMP POINT IL, 62324 LOCATED WITHEN 10 MIN OF CONCERT. $5.00 PER TENT WITH TICKET STUB. HOTELS WITHEN 15 MIN. FOOD IS ALSO AVAILABLE AT CONCERT.
Sat, Sep 17, 2011 7:00 PM (CDT)
HotSpots, Clayton, Illinois
This event ended Sun, Sep 18, 2011
HotSpots
HIGHWAY 24 WEST
Clayton, Illinois 62324
There are no additional details for this event.
Location
HotSpots
HIGHWAY 24 WEST
Clayton, Illinois 62324