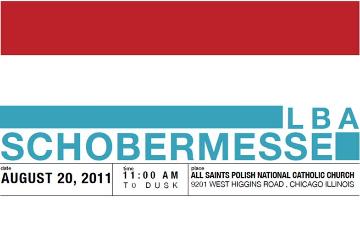 75th Schobermesse
Luxembourg Brotherhood of America Schobermesse
Sat, Aug 20, 2011 11:00 AM (CDT)
All Saints Polish National Park Pavilion, Chicago, Illinois
This event ended Sat, Aug 20, 2011
All Saints Polish National Park Pavilion
9201 West Higgins Road
Chicago, Illinois 60631-2707
Dear Friends,
This year marks the 75th Anniversary of the Schobermesse and promises to be an outstanding and memorable event. Please contact your friends and relatives and have them block their calendars to enjoy a wonderful day of food and fun. Why not consider planning a family reunion at this year's Schobermesse? There is no better venue to celebrate your family and Luxembourg heritage!!!
We intend to have many special additions to our festival this year to celebrate this special 75th Anniversary such as: Family Games, Caricature Artist, Art Fair, Genealogy Table, live music by the Mashed Potatoes, and much more. Special for this year, beer only found in Luxembourg courtesy of Simon Pils Brewery!
Advance Price Ticket Sale End August 15th!
Ticket Prices:
Advance Price Door Price
Adults: $30 $40
Youth 8 – 15yrs: $10 $10
Children 3-7 : $5 $5
Under 3: FREE FREE
Advance price tickets can be picked up at will call. Please provide your email address and a confirmation will be emailed to you.
11:00AM Festival opens
11:45 – 1:45 Caricatures
12:00 – 1:30 Horseshoe & Bags Sign up
12:00 – 1:30 Prince & Princess Sign Up
12:30 Food Service begins
1:45 Open Ceremony & Hämmelsmarsch
2:00 – 3:30 Family Games
2:30 Wheel-OF-Meat
3:30 – 6:00 Bingo
4:00 – 5:00 Genealogy Consultation
5:00 – 7:30 Mashed Potatoes Perform
6:00 Dorr Prizes & Scholarship winners
8:00PM FESTIVAL CLOSES
Location
All Saints Polish National Park Pavilion
9201 West Higgins Road
Chicago, Illinois 60631-2707