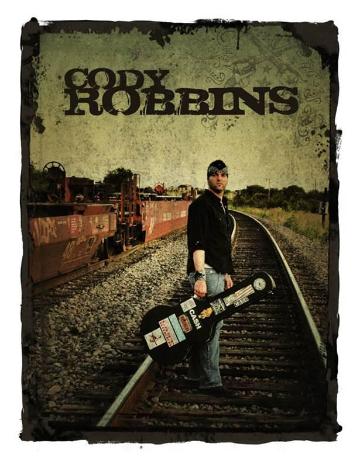 Cody Robbins
The Larry Slack Summer Concert Series!
Fri, Sep 16, 2011 7:00 PM (CDT)
Bowie Community Center, Bowie, Texas
This event ended Fri, Sep 16, 2011
Bowie Community Center
413 Pelham Street
Bowie, Texas 76230
The Cody Robbins Band is a Texas Country act based in Bowie, Texas. Already developing a strong fanbase, especially in North Texas, the "CRB" combines the spirit of the "outlaw movement" with contemporary stylings. The CRB's live show has the energy and lyrical rebellion of a rock concert combined with rowdy, raw, honky-tonk country music.
Cody's 2010 debut album "My Inner Hank" is already getting national attention for "being true to it's roots" and walking the line lyrically with his truths. The ghosts of Waylon and Cash manifest in the tones of the record as well as the "doing things my way" attitude. With his debut single "Inner Hank" to be released in August 2010, Cody comes out to radio with guns blazing! Justin Frazell from 95.9 The Ranch/Texas Red Dirt Roads says- "There a big bunch of new faces making the way onto the Texas Music these days. Many will climb and few will make it to the top. I expect to see Cody standing tall on that music mountain and waving that Texas Music Flag proudly."
Originally formed in 2005, the Cody Robbins Band has been all over Texas and Oklahoma. The current members include: Cody Robbins- Vocals/Rhythm Guitar (Bowie, TX), Cody's dad Jerry Robbins- Steel Guitar (Jacksboro, TX), Scott Huckabee- Lead Guitar (Bridgeport, TX), Tracey Frerich- Bass (Wichita Falls, TX), and Dan Burns- Drums (Azle, TX).
To quote a song off his album, the "miles and miles between the Honky Tonks in Texas" are something the CRB is very familiar with and they will continue to "move on down the line" in 2010. Town by town, the Cody Robbins Band are winning over country music fans and developing a loyal following of partygoers.
Location
Bowie Community Center
413 Pelham Street
Bowie, Texas 76230