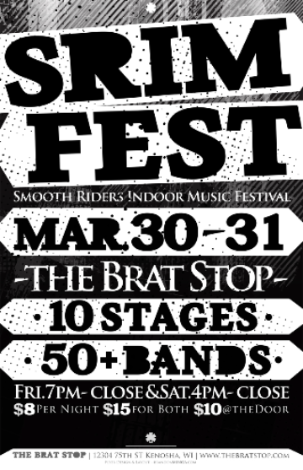 SRIM Fest 2012
SRIM Fest is a one-of-a-kind indoor music festival
Fri, Mar 30, 2012 7:00 PM (CDT)
The Brat Stop, Kenosha, Wisconsin
This event ended Mon, Apr 02, 2012
{{calendarLabel}}
{{calDate.dayOfMonth}}
Sold Out
Ended
{{calDate.available}}
The Brat Stop
12304 75th Street
Kenosha, Wisconsin 53142-7323
Smooth Riders Indoor Music Fest, or SRIM Fest, is a one-of-a-kind indoor music festival. It is a Matt Meyer production hosted at the Brat Stop in Kenosha, WI. Always on the last weekend in March the festival is 2 nights with 10 stages and over 50 acts. 1000's make their way back every year to see their favorites and to discover new bands.
With multiple stages and many varieties of music, this show at The Brat Stop provides music fans that festival atmosphere when it's still too cold to have one outside. With the festival local and independent ticket prices are low and the typical drink and food prices of a resturant instead of a festival.
The last weekend in March at The Brat Stop in Kenosha, WI, 2 nights, 10 stages, all indoor, over 50 bands, Friday 7-close, Saturday 4-close, pre-sale tickets $8 at the door $10 per night, $15 for both nights. Many varieties of music are played from rock, jam band, blues, folk, country and hard rock. Food and drinks can be purchased from the Brat Stop.
Friday March 30thMAIN STAGE7:00 - Kick the Record8:30 - Joel Pingitore and The Playground of Sound10:00 - Donoma11:30 - Cosmic RailroadBRISTOL ROOM 7:30 - Cookie Crotch Nuts9:00 - Terry n' the Front10:30- The Delta-9 Band12:00 - Fur Coats for SportsmenPARKWAY CHATEAU STAGE7:15 - The Elephant8:45 - Vendella10:15 - Trouble Boys11:45 - Greatest Lakes BEER GARDEN7:30 - Three Left9:00 - Stage Fright10:30 - Caveman's Fire12:00 - Idea MenWI ROOM7:45 - Betsy Ade9:15 - Candy Eisenhower10:45 - Acoustic Soul12:15 - Minor Rights Saturday, March 31stMAIN STAGE4:00 - Still Country5:30 - Macyn Taylor7:00 - TBA8:30 - TBA10:00 - Matt Meyer and The Smooth Riders11:30 - Penguins With Shotguns1am - Richard Cranium BRISTOL ROOM4:30 - 5:30 - Bohemian Grove6:00 - 7:00 - TBA7:30 - 8:30 - NoOneSouldier9:00 - 10:00 - The Living Dred10:30 - 11:30 - Tamara Vendetta 12:00 - 1:00 - 4 GrandPARKWAY CHATEAU 4:15 - Gun Shy Martyr5:45 - TBA7:15 - City of Ghosts8:45 - Sioum10:15 - Before Tomorrow11:45 - PathBEER GARDEN4:00 - TBA5:30 - Disregarded Stars7:00 - Kyle Young Band8:00 - American Folk 10:00 - Big Leaf Linden11:30 - AsparagiWI ROOM4:45 - Blue Edge of the Prairie6:15 - Ye Shall be Gods7:45 - Dakota Rose9:15 - Kick the Record10:45 - Mallory Helen and Jimmy Pendleton12:45 - Dropping Daisies
Location
The Brat Stop
12304 75th Street
Kenosha, Wisconsin 53142-7323