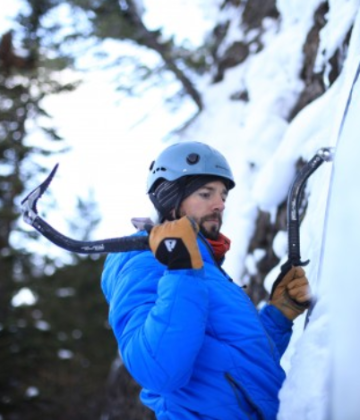 Saturday Clinics
Choose from one of the FIVE clinics
Mon, Dec 10, 2012 8:00 AM (MST)
The Emerson, Bozeman, Montana
This event ended Mon, Dec 10, 2012
{{calendarLabel}}
{{calDate.dayOfMonth}}
Sold Out
Ended
{{calDate.available}}
{{ directions }}
The Emerson
111 South Grand Avenue
Bozeman, Montana 59715
Lumber Jack
Ice Climbing 101If you have never swung and axe before, this one's for you. Paul Bunyan's sponsor wouldn't cough up the dough for him to come to the Bozeman Ice Festival, but Arc'teryx, Outdoor Research, Black Diamond, La Sportiva, Petzl, Mammut, Scarpa, Patagonia, and Sterling Ropes are sending the best lumber jacks in the business to BIF's 15th annual event. In tree chopping, horseshoe and hand grenade throwing or ice climbing, all the pros say, "success is in the fundamentals." So join us at the Bozeman Ice Festival and be taught by the best instructors in the world. That way you can spend all your waking hours climbing ice and blow off your chores; like chopping wood? Who wants to be warm anyway? Learn from the best as they introduce you (or remind you) how to start things right on easy stuff all the way up to Grade 4 (intermediate). This clinic will cover everything from basic equipment introductions to fundamental body position, to swinging your axe like a pro, and curing the "Screaming Barfies." TIMBER!
Skill Level Required: This course is designed for novice climbers with no experience or anyone who simply needs a refresher.
Athlete/Instructor: TBD
Location: Genesis I and surrounding area.Number of Participants: Limited to 15 participants.
Milking the Goat: Ice Climbing 201
No this isn't a Montana joke. In many respects, ice climbing is about managing strength resources and mitigating pump, regardless of how many pull ups you can do, or not. What does this have to do with Milking a Goat? Well ice climbing is really about milking your strength and endurance so that you can climb more pitches efficiently. With the generous support of our sponsors we have the world's best milkers coming to Bozeman to teach you about goats and how to climb with better style and effeciency. The morning will be spent on steep ice (WI4-5) where you will learn the tips and techniques on how use body position and strategy to milk your strength and endurance.
Skill Level Required: Anyone already possessing the basics of ice climbing technique.Athlete/Instructor: TBDLocation: Genesis I and surrounding area.Number of Participants: Limited to 13 participants.
The second half of the day at G1 will be split into specialty mini-clinics introducing mixed and rock climbing with ice tools, anchors, and other secrets of the pros. Anyone from the 101 and 201 classes can participate (see descriptions).
Mini Clinic – "Mountaineer" i.e. Rock Climbing with Crampons?Want to take your climbing to the snowed up and iced over mountains but not up for M 10, then this is the clinic for you. Most of the classic "mixed" climbs found everywhere from Granite Peak to Gasherbrum don't require figure fours and one arm pull ups. In fact, more time is spent balancing on crampons with your hands doing more pushing than pulling. Learn and practice the skills you need to travel fast and efficiently in the mountains. This mini-clinic will be taught near Genesis I on several different rock features from low angle stuff (M3) to quite steep (M6).
Mini-Clinic – "Anchor Therapy" i.e. Anchors Assessment & Protection Placement?We all know piece of mind comes from feeling secure. This half day clinic will be taught by some of climbing's top therapists hoping to improve your relationship and trust levels of ice screw and natural gear placement as well as anchor construction, all without having to talk about your mother. Learn the tricks used by the pros to stay quick, efficient and safe from Hyalite to Patagonia. Sanity is Subjective.
Step it up: The Vertical Runway Clinic
It is no secret the most important thing in leading ice is looking good and if you are scared just imagine the audience naked! That just gave me the chills. Join some of this nation's top ice models in perfecting your own flawless style on challenging ice from WI3 up to WI5. This clinic will emphasize safe and efficient protection placements, recommended equipment, lead climbing practices, how to keep looking good even if you hang on a screw, and of course important fashion tips. For those aspiring to improve their climbing confidence and look great doing it, this full day clinic is designed for you. So come put on some miles, vertically and horizontally, and really polish your skills. "I"m so hot right now!"
Skill Level: Some climbing experience is recommended and must be able to follow WI 3.
Athlete/Instructor: TBD
Location: Mummy Cooler II/Scepter and surrounding area (this requires a 35-45 minute approach).
Number of Participants: Limited to 10 participants.
Leaving the Nest: Safety and Independence
This full day clinic is designed to teach a wide array of skills preparing the inexperienced climber to ditch the classes/guide/instructor, show you around Hyalite and gain more climbing independence. Starting in the parking lot, learn everything from terrain assessment and clothing recommendations, packing your pack, to safe top roping, multi-pitch climbs, belaying and anchor construction. Of course, lots of vertical is included.Skill Level Required: This clinic begins beyond the basics and emphasizes "mountain" sense over technical skills. Thus, you'll need to have some fundamental and general climbing skills.Athlete/Instructor: TBDLocation: Genesis I, Genesis II/Hangover, Amphitheater, and surrounding areaNumber of Participants: Limited to 12 participants. Full Value Meal: Rock and Ice and Mixed MasterThis menu includes a bit of everything served up on one of Hyalite's most diverse venues with no name. This clinic is designed to challenge the intermediate to advanced climber determined to improve their skills on everything from naturally protected mixed climbs, to moving quickly on fatty flows, to thin intricate ice smears. Don't forget to save some room for a burley mixed cave route for desert. Use of really cool toys included in price of purchase. Offer may not be good in the South Fork, Ouray, Frankenstein, the U.P., or the Junkyards. Purchase necessary. Void where prohibited.
Skill Level: Intermediate to advanced climbers.
Athlete/Instructor: TBD
Location: Unnamed Wall
Number of Participants: Limited to 10 participants.
Location
{{ directions }}
The Emerson
111 South Grand Avenue
Bozeman, Montana 59715