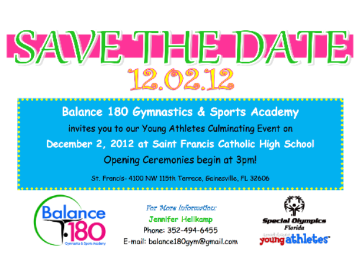 Balance180 Special Olympics Young Athletes
Fall Culminating Event
Sun, Dec 2, 2012 3:00 PM (EST)
St. Francis Catholic High School, Gainesville, Florida
This event ended Sun, Dec 02, 2012
{{ directions }}
St. Francis Catholic High School
4100 NW 115th Terrace
Gainesville, Florida 32606
Balance 180 Gymnastics and Sports Academy is proud to present the Fall Special Olympics Young Athletes Culminating Event.
The Young Athletes Program (YAP) is an innovative and adaptive sports program for children with intellectual disabilities and their peers who are between the ages of 2 and 7. YAP introduces children to the world of sports and helps improve their motor, cognitive, and social skills.
On December 2nd, we will be celebrating the accomplishments of our young athletes and all are invited to attend. The event will be hosted at Saint Francis Cathologuc High School - 4100 NW 115th Terrace, Gainesville, FL 32606. Opening Ceremonies begin at 3pm!
In addition, their will be entermainment, special guests and prizes. The raffle will include a 49cc scooter, iPad, and much more....
Come join us and support our young athletes!!!
Contact Jennifer Helkamp at (352) 494-6455 for more information.
Location
{{ directions }}
St. Francis Catholic High School
4100 NW 115th Terrace
Gainesville, Florida 32606