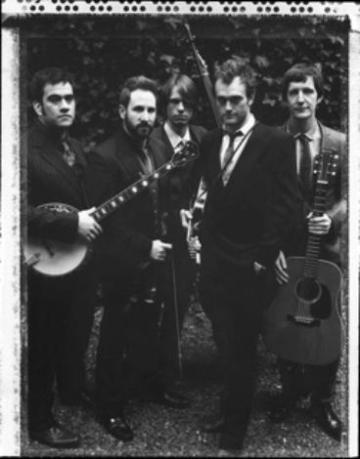 PUNCH BROTHERS featuring CHRIS THILE
VOOTIE BRINGS THE PUNCH BROTHERS TO BOZEMAN'S EMERSON CENTER ON MONDAY, MARCH 7TH AT 7:30PM
Mon, Mar 7, 2011 7:30 PM (MST)
Emerson Center, Bozeman, Montana
This event ended Mon, Mar 07, 2011
{{calendarLabel}}
{{calDate.dayOfMonth}}
Sold Out
Ended
{{calDate.available}}
Emerson Center
111 South Grand Avenue
Bozeman, Montana 59715
"Antifogmatic" is a bit of bygone slang that mandolinist Chris Thile and his bandmates stumbled across, "an old term," explains the Punch Brothers founder, "for a bracing beverage, rum or whiskey, that one would have in the morning before going out to work in rough weather, to stave off any ill effects." It's an apt title for the Punch Brothers' second Nonesuch disc. This ten-song set of collectively written material takes a clear-eyed view of those things less tangible than booze that can make us woozy: the pleasures and pitfalls of romance, the seemingly limitless possibilities and multifarious temptations of life in the big city.
"When we heard that term," says Thile, "it was so easily applied to the bulk of the record. We want our music to be something that people can sink their teeth into, if not help make sense of all the various things happening to them. We want to pat them on the head and slap them in the face and tell them everything will be okay."
The arrangements on Antifogmatic range from intimate to boisterous and back; genre-wise, the band once again ventures where no string band has ever gone before. The spare opening track "You Are" contrasts percussive guitar riffs with lyrical string parts that dance around Thile's sweet upper register as he spins a tale of romantic emancipation; occasionally, the other instruments give way to reveal the throb of the bass. The band also engages in some unexpectedly beautiful harmony singing, smoothing out the compelling melodic twists and turns of "Welcome Home." "Me and Us" and "Woman and the Bell" both have a dream-like quality; the former, in fact, was inspired by those jumbled, thought-filled moments before sleep sets in, and the instrumentation keeps pace with the ever-shifting imagery. In contrast, "Don't Need No" and "Rye Whiskey" are foot-stomping barroom boasts and "Next to the Trash" is the closest the band gets to traditional bluegrass, even as the lyrics tug the piece in a more surreal direction.
Thile has earned the right to impart a bit of his own hard-earned wisdom in the lyrics he's contributed to Antifogmatic, which the quintet cut live at Ocean Way in Los Angeles with producer Jon Brion and engineer Greg Koller. At the heart of the Punch Brothers' 2008 debut, Punch, Thile's four-movement "The Blind Leaving the Blind" chronicled in cathartic detail the events and faith-shaking emotions surrounding the dissolution of his youthful marriage. The musically rigorous, personally revealing composition—carefully notated but allowing room for improvisational passages—came to vivid life in the hands of the former Nickel Creek singer's old friends and newly recruited bandmates: guitarist Chris Eldridge, banjo player Noam Pikelny, violinst Gabe Witcher and bassist Greg Garrison, each of whom were already envelope-pushing figures in the forefront of modern bluegrass, folk and country. (After the departure of Garrison, Paul Kowert, a member of mandolinist Mike Marshall's Big Trio, stepped in.) "The Blind Leaving the Blind" was bracketed by four collaboratively conceived instrumental pieces from this freshly minted group, a foretaste of what was to come two years later on Antifogmatic. Upon the release of Punch, The Washington Post described this then-new band as "some of the best string-band pickers of the new generation, and Thile has given them rich, challenging music to wrestle with.""Our new record is a very pure collaboration," Thile emphasizes. "I would often come to the boys with a start, a little nugget, and we would collectively fashion it into something. None of these songs would have been like themselves if I had been left to my own devices. Several of them were starts that other guys had, and we would build from there. It's fun how liquid the writing process was on this."
Says guitarist Eldridge, "We got to find out what the band sounded like when we tried to collectively make music from scratch. A song might start with something as simple as a phrase that everybody thought was cool and worthy of development, maybe a set of chord changes, maybe more than that. Everyone was bringing things to the table and putting them in front of the band's collective consciousness to try to build them into something together. It was a pretty neat experience to see how things took shape that way. It really happened completely before our eyes."
The process of creating the work that would ultimately comprise Antifogmatic also happened before the eyes—and ears—of many Punch Brothers fans in New York City, where the members of this former "commuter band," as Pikelny characterized it, had all decided to relocate. In early 2009, the quintet began a monthly residency at the Living Room, a small club on Manhattan's Lower East Side, for what they dubbed p-Bingo Nights, a laboratory for developing new material and trying out songs of any genre that struck their fancy—and, as countless YouTube fan videos attest, for having a good time.
As violinist Witcher, who moved to the city from his lifelong home of Los Angeles, recalls, "We were finally able to hang out and play music for fun, when we weren't trying to frantically warm up for a show or frantically go into the studio to record. We started doing these shows in New York—informal performances where the goal was to try out a bunch of stuff that we never had the time to do before or that wouldn't necessarily be right for our live show. In doing so, we started saying, like, 'Hey, do you think we could work up this Strokes song? Sure. Oh man, I really love the fourth movement of this Mozart Quartet. What if we tried to do that? Absolutely!' Anything we felt excited about, any piece of music, we tried to see if we could arrange for our ensemble. It was challenging, fun, and pretty successful. When it came time to write this new material, everyone was feeling confident that whatever kind of influence you're feeling for a song, we would be able to pull it off. All these different styles and different approaches we had been doing in the six to seven months preceding that, it all just kind of seeped into the writing. No one was ever forcing anything on the record; everything that we had learned started coming out naturally in the parts they were offering, the direction they heard a song going in, or in an approach to take for a section."
The banjo-playing Pikelny says, "It was endless what we could investigate on a particular song or concept. We never stopped pursuing something in the interest of time or because we had to move on. We were able to get deeper inside some of the music than we've ever been able to before, to the point that we were spending so much time on this stuff and making so much progress, we were compromising the other aspects of life in New York. I remember one day calling the band and saying we had to cancel this writing session or I wouldn't have clean laundry for the next tour."
Thile, also a California native, had befriended Jon Brion during the producer-composer- musician's own residency at L.A.'s Café Largo, off-the-cuff evenings that were more salon than concert, attracting some of the best, and often well-known, musicians who happened to be in
town that night. Brion, who has worked most famously with Fiona Apple, Aimee Mann and Kanye West, was reluctant to take on a new project, but when Thile asked him for advice on finding a producer, Brion admitted that he might be the best guy for the job. However, the role Brion would assume turned out to be anything but traditional, more about pedagogy than straight-up production. He and engineer Greg Koller spent a couple of days setting up the studio with remarkable precision—moving the players and instruments like chess pieces until they were in the exactly right positions, testing out microphones until they decided everyone should have a Telefunken 251—then they let the band simply play. Each evening, Brion would return with a great bottle of Port and some equally good cheese to listen back to what the band had done, assess the results and talk—deeply, philosophically—about what they were trying to achieve.
"He knows the room really well," the young bassist Kowert enthuses. "He knows the point on the floor where the bass should be—whether it was where he liked the sound of it the most or where it would be the loudest. Just knowing how the room reacts to sound. I really like his spirit; he has a really joyful approach to music and he was a positive presence in the studio. He kind of guided us towards choices that made for the best record, like picking earlier takes that surely had more mistakes but had a vivacity and energy to them that later takes lacked."
The stories the Punch Brothers tell in Antifogmatic—partly autobiographical, partly imagine— were shaped by after-hours camaraderie as much as musical collaboration; they're ultimately about drinking everything in as well as drinking what's in front of them up, though there was plenty of that too. Concludes Thile, "The boys and I would work all day in one of our apartments and then we'd want to go out and have a drink. That's what you do in New York City, because everyone's apartment is too small to hang out comfortably in. We're a group of five guys. If friends start attaching themselves to the fray after that, you forsake the one-bedroom apartment and you go into the incredibly vibrant bar scene that isn't merely an encouragement for intoxication and spending obscene amounts of money per drink. It's really a wonderful way to get to know your fellow man, with your top button unbuttoned and your tie loosened a little bit."
—Michael Hill
Cart is empty
after
you have entered all required information.
If your order qualifies for a discount, it will be applied during checkout
Location
Emerson Center
111 South Grand Avenue
Bozeman, Montana 59715