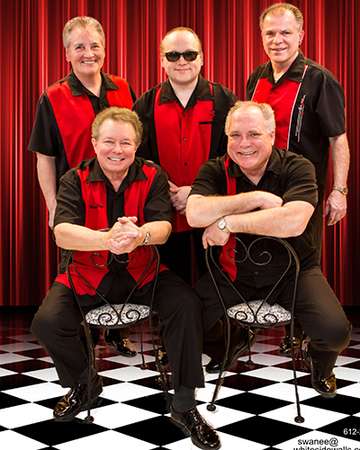 The Whitesidewalls: Rock 'n Roll Revue–Saturday, May 9
The Whitesidewalls: Rock 'n Roll Revue–Saturday, May 9
Sat, May 9, 2020 3:00 PM (CDT)
Sevenwinds Casino, Lodge & Conference Center, Hayward, Wisconsin
This event ended Sat, May 09, 2020
{{calendarLabel}}
{{calDate.dayOfMonth}}
Sold Out
Ended
{{calDate.available}}
{{ directions }}
Sevenwinds Casino, Lodge & Conference Center
13767W County Rd B
Hayward, Wisconsin 54843
The Whitesidewalls: Rock 'n Roll Revue
The Whitesidewalls Rock 'n' Roll Revue was founded in 1972 in Forest Lake, Minnesota. College classmates Pat Brown and Eric Satterlund discovered a mutual love for 50s and 60s music and decided to form such a group. The Whitesidewalls grew quickly in popularity and became a fixture of the Twin Cities music scene, appearing at ballrooms, bars, corporate and community events and celebrations throughout the 5-state area. They presented the Rock 'n' Roll Revue for many summers at the Valleyfair amusement park in Shakopee Minnesota, and were a part of the first Winter Dance Party revival (the annual event commemorating the last shows of Buddy Holly, Richie Valens and The Big Bopper at the Surf Ballroom) in Clear Lake Iowa in 1979, and continue to perform there. The Whitesidewalls have operated continuously since 1972 and carry on today, bringing the best of rock and roll, rockabilly and doo-wop from 1954 to 1964 (the "golden age of rock and roll") to many thousands of friends, fans and dancers each year.
The members:
Pat "Hound Dog" Brown was a founder of the band and continues as bandleader today. He has a deep knowledge of the music of the era; it is his focused vision that has defined the show band. Pat plays guitar, bass, drums, keyboards and sings.
David "Swanee" Swanson became a Whitesidewall in the second year of the band's existence. In addition to his role in the band, Dave has been active in the local recording scene for decades, performing at, producing and engineering many sessions in the region, where he is well-known by musicians and fans alike. Dave plays saxophone, guitar, keyboards and sings.
Brad "Gino Gambucci" Nelson joined The Whitesidewalls in 2009. He has performed in the Twin Cities for over 40 years and has been a part of many acts in the region in that time. He, too, has recording experience as a performer and engineer. Brad plays bass, keyboard, guitar and sings.
Bill "Bobby Maestro" Spalding joined The Whitesidewalls in 2010. Bill has performed for decades in the area and consequently is known in the musical community as a desirable sideman and vocalist. Bill plays keyboards, bass, guitar and sings.
Erik "Rocky Beaumont" Swenson became a Whitesidewall in 2011. He has worked extensively in the area for many years, performing on stage and doing recording session work and jingles. Erik is fully vested in the music industry, managing a music store in his "spare time". Erik plays drums, bass, guitar and sings.
The Whitesidewalls Rock 'n' Roll Review remains very active today. In addition to the many shows they play each year they also produce a weekly radio show hosted by Twin Cities disc jockey Michael Patrick "Records" Ryan, which is broadcast in Minnesota, Wisconsin and New Jersey. They have also staged many performances of their 2-act musical play, "Love Potion #10", around the region to great success. They have been inducted into the Mid-America Music Hall of Fame, the Minnesota Music Hall of Fame, and will be inducted into the Iowa Rock and Roll Hall of Fame in September 2017. They continue to thrive and feel blessed that they can bring joy to their audience while doing something that they love.
Location
{{ directions }}
Sevenwinds Casino, Lodge & Conference Center
13767W County Rd B
Hayward, Wisconsin 54843